Teenage Millionaires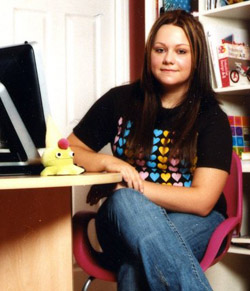 Who says it takes a lifetime of savings and an impressive resume to make millions of dollars? Here are a couple teenage millionaires that prove the rest of us wrong:
Ashley Qualls started whateverlife.com at age 14 and dropped out of school when her website started making $70,000 a month. How did she do it? By accident.
Ashley, from Detroit, started her website with $8 she borrowed from her mom. Her friends liked her MySpace pages so much, she started posting them on her site for them to download. Apparently her friends were not the only people interested in her designs.
Traffic started flowing in, and now Ashley receives 7 million visitors a month. She was not even old enough to drive when she bought her first house for her and her mom.
Her website brings in between $40,000 and $70,000 a month, and many internet marketers feel she can make much, much more with her massive audience. Money doesn't seem to be her primary motive though, as she recently passed on a $1.5 million buyout offer.
Cameron Johnson is well known in the internet marketing community, and may be classified as a serial entrepreneur.
He started his first business at age 9, where he made several thousand dollars selling greeting cards online. He was able to take his savings and make an offer to his sister to buy her Beanie Babies for $100 a piece. Those were sold for a quick profit and his profits were re-invested in buying more Beanie Babies.
By age 12, Cameron had made over $50,000, which he used to fund his next project. He started an email service called EZ Mail, which generated over $3,000 in income before he was even a teenager.
As you might imagine, Cameron did not stop there. At age 13, he start Surfingprizes.com. By age 15, he was cashing checks that were over $300,000. From there he continued to start a string of many other successful websites, including Certificate Swap, a website that allowed people to trade gift cards.
I wonder, is Cameron an entrepreneurial genius, with his string of incredibly successful start-ups? Or did he have any hiccups along the way.
Click Here to learn how you can start making money on the Internet from home.
Millionaire Money Habits: Making millions even for these teenage millionaires did not happen over night. Maybe it was a bit of luck or being at the right place at the right time, but these kids found a way to provide something of great value and capitalize on it. One thing is evident, is that they have a passion for what they do. -RT