30 Days to Millionaire Money Habits
In addition to the discipline and willpower needed to become a millionaire, what may really be needed in order to achieve your long-term wealth accumulation goals is to develop a Millionaire Mindset.
Webster's Dictionary defines a habit as, "An acquired mode of behavior that has become nearly or completely involuntary." It takes more or less 30 days to condition yourself to create (or break) a habit. Once it is created, those actions happen with little or no conscious processing.
Think about when you first started driving a car, and how you constantly had to think about each procedure. Put the belt on, check the mirrors, turn on the ignition, check your surroundings, apply the break, shift into gear, etc. As time went on you were driving places while talking on the phone, listening to music, drinking a coffee and not even consciously remembering how you got to your destination. It is habits like these that are either helping or preventing you from reaching your goals.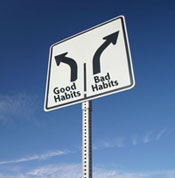 Wouldn't it be Great to Create Millionaire Habits?
Knowing this, what money habits are there that you wish you had or didn't have?
Unconscious ability to save more money
Unconscious ability to invest and make better investing decisions
Unconscious ability to reduce taxes
Unconscious ability to increase cash flow
Unconscious ability to boost retirement income
The first 30 days of creating a habit can be tough because we are inheritably lazy and it is easier to talk ourselves out of doing something that requires even a slight amount of effort. The path of least resistance is comfortable.
To start creating your habit you will want to write down your goal, along with an explanation of why you want to achieve your goal. If you want to save more money, write down, "I want to stop wasting money and save $5 a day to contribute to my retirement fund and retire rich. I will save $5 a day by doing X."
Be consistent for at least 30 days in your action, seek opportunities to act out the behavior, and be consciously aware of the behavior you are trying to create or destroy. Your tendency will at times be to do what is comfortable and what you are used to, but remind yourself of your ultimate goal and resist the urge take the easy way out. It's all mind over matter.
Eventually this new behavior will seem so normal it will be hard to imagine that you used to act in any other way. Learn how you can increase the millionaire deep inside you and download a copy of the Millionaire Mindset.
Millionaire Money Habit: The personal finance habits you have can accelerate or impede your ability to accumulate wealth. The good news is you can train your mind to unconsciously and automatically perform millionaire money habits. Develop the millionaire within you and you will reach your goals almost effortlessly.