5 Questions You Should Ask Before Renting a Luxury Apartment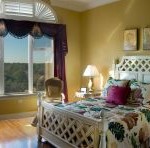 Ask nearly anyone and you'll find that most people prefer to live in luxury accommodations. But not everyone can afford the sticker price of a multi-million-dollar Malibu mansion on the beach. That said, there is no shortage of opportunities for well-to-do renters to find apartments that not only offer proximity to bustling downtown areas or other desirable locations, but also provide the luxurious amenities that constitute the high cost of rental. That said, the price tag shouldn't be the only thing you look at when choosing a luxury apartment. Here are a few questions you'll want to ask before you sign a lease.
What does the location offer? Luxury accommodations demand a room with a view, so to speak. Whether that view is a downtown city scape or a scenic panorama of natural beauty is up to you, but you can't really call the location luxe if it doesn't offer something extra that other area apartments don't have. So look for a view of the ocean, the city skyline, or something equally appealing, and make sure it's a front row seat, rather than impeded by other buildings. In addition, your location should offer a low crime rate, a top-rated school district, and easy access to amenities like dining, entertainment venues, shopping, public parks, and other attractions.
What is the square footage? No one would pay top dollar for a tiny, cramped apartment, even in a fabulous location, so the next thing you need to look for is plenty of space to stretch out. A luxury apartment need not have a ton of rooms, but the rooms it has should all be spacious.
How is the space laid out? You might not think a floor plan is very important until you end up in a place that's all hallways and tiny rooms. Even if the square footage is not that great, a good floor plan can make an apartment feel spacious. If you're looking for a luxury apartment, the floor plan should be open concept to make the most of the available space and the natural light (which often comes in from only one, or if you're lucky, two sides). And don't discount the importance of storage space, including a walk-in closet.
What amenities are offered? The average apartment might offer covered parking spaces. But luxury accommodations could provide an underground parking garage, plus attendants, and even valet or car-washing services, to boot. Your complex may also include extras like a pool, a gym facility, a doorman, a concierge, or other appealing services and facilities. And there should be extras on the inside, as well, such as high-end appliances, modern styling, and rich attention to detail in the form of crown molding, wood floors, natural stone tile and countertops, and so on.
How much does it cost? Whether you're looking at luxury accommodations like Manhattan lofts, Church Park Apartments, or condos for rent in Malibu, you really can't get around the issue of cost. Of course, if luxury apartments are on your radar, chances are you've got some dough to blow. But you should always compare costs to make sure you're getting your money's worth.