The Money Spectrum
I receive frequent inquiries from readers who visit this site who are all over the board in terms of where they are financially. Many people want to see more articles about getting out of debt and creating a budget. Others want to know how to accelerate their income and wealth accumulation.
This got me thinking about the stages people find themselves in financially. In most cases it is necessary to complete financial objectives in one stage before it is possible to move on to the next phase of the wealth accumulation process.
To illustrate this concept, I created The Money Spectrum. Obviously I'm not an artist, so please bear with the lackluster aesthetics.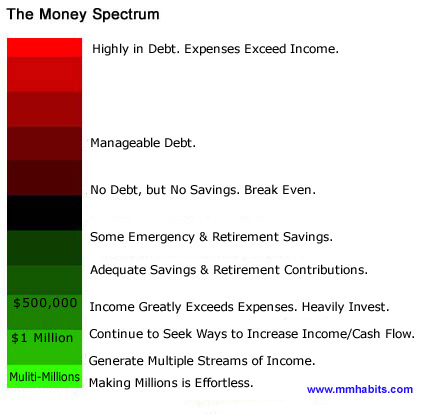 If you examine the money spectrum, you will see that why the money game is not necessarily fair and how the rich get richer. While only 2% of Americans fall in the bright green categories, they own most of this country's wealth. This makes sense though when you consider that most Americans are in the red and very little to no assets or net worth.
What I find interesting is the money spectrum highlights one of the key factors that financial advisers stress over and over. That is to get out of debt. The bright red area where expenses exceed income is where most people fall. Also notice that there are very few stages between the red zone and the green zone, which is where you start to build wealth. That's because the income-to-expenses ratio is the only thing holding someone back from building wealth. You cannot move forward without taking control of expenses first.
On the flip side, once the debt-zone has been broken, the ability to make more money and increase wealth accelerates dramatically. Again, demonstrating why the rich get richer. Once you have money and have developed the proper habits of using money to make money, your ability to create wealth compounds at a very fast rate. You can see why millionaires often say that their first million dollars was the toughest.
Millionaire Money Habit: According to the money spectrum, an inability to manage debt and expenses makes it impossible to get ahead financially. Take a good look in the mirror and indicate where you are on the money spectrum. Make a commitment to do what it takes to move yourself into the next stage while keeping the bright green label as your ultimate, long term goal.