5 Ways to Save Money on An Out-of-State Move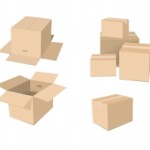 Whether you're moving out of state to attend college, take a new job, or to merely have an adventure in a new city, you'll find that there are myriad expenses associated with making this major move. But there are ways to save some cash when you decide to move out-of-state. Here are some strategies you might want to try.
Have a yard sale. The less stuff you have to move, the less the process is going to cost you in time and money. So before you even think of getting moving boxes, renting a truck, or hiring movers to do it all for you, go through every room in your home and figure out what you no longer need. Broken or useless items can go in the trash and other unwanted goods can be carted out to your front yard to sell, earning you some extra money in the process. Anything left over can be donated to charity (remember to get a receipt for a write-off come tax time). And you'll be left with only the items you need when you move. As a bonus, you won't end up with a ton of unopened boxes in your new garage or ongoing expenses for a storage unit.
Pack with care. If you don't want to end up having to replace items that have been lost or broken during the move, you need to pack carefully. This begins by having the bubble wrap, packing paper, moving blankets, and other padding you need to secure fragile items (although if you want to save some dough, use that old stack of newspapers and magazines in your home - just pull pages and crumple them up fir extra padding in boxes). From there, you'll want to label boxes and make lists as you go. Use a numbering system for boxes so that you can easily count them when you're loading and unloading trucks, and make a master list that includes all the items in each numbered box. You should also write on each box the room it will go to in your new home.
Write off the expense if possible. If you're moving for a job or you own your own business, you may be able to write off some or all of your moving expenses. If you're not sure, simply call your tax prep specialist for more information.
Comparison shop for movers. Hiring movers is certainly convenient, but it comes at no small expenses. And like any type of service, you need to comparison shop if you want to get the best price from movers Framingham to Fort Worth. Just make sure you ask about any possible extras like insurance, the cost for boxes and packing, and so on. You don't want to be surprised down the line by hidden costs.
Get a little help from your friends. If you've helped others move in the past, now is the time to call in that favor. Some of your family and friends may be willing to help you pack or load at the outset while others might help you drive a moving truck or unload at your destination. Reciprocation is the name of the game when it comes to making a major move.