Save Major Bucks by Upcycling Your Clothing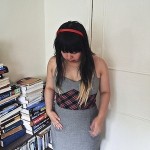 The first thing you can do is find ways to make new clothing items out of your old duds. Some enterprising gals have started taking old t-shirts and making skirts out of them. If you're handy with a sewing machine or serger it's simple enough to remove the sleeves (which can then be turned into pockets) and sew up the holes. Then you cut off the neckline and add elastic for the waistband. Cool graphics on the tee become cool graphics on your skirt. But there are a lot more ways you can use your old outfits than simply turning them into new clothes.
For example, you might cut up old clothing that really isn't usable as clothing for one reason or another (fading, holes and tears, staining, etc.) and use it to craft a quilt. You can simply discard a stained or torn portion and cut the rest into strips or squares that are perfect for quilting patterns. Again, it helps to have a sewing machine on hand for this project. You could also make a raggy, woven rug out of t-shirt strips. But what about old sweaters? Glad you asked! These can easily be turned into new covers for your throw pillows. Simply cut off the top of the sweater (just below the armpits) creating a tube. Flip it inside out to sew up the bottom, then turn it back out and put the pillow inside. If you're crafty you might put a zipper on the top, but you could simply tuck the top portion inside (for easy removal) or sew it up if you like. Voila - soft and stylish pillow covers.
You might even create jewelry and accessories with old clothes. There are tons of tutorials online that can help you to turn strips of jersey knit into woven headbands or bracelets, create rings and necklaces from buttons, and use old jeans to make cute handbags (complete with ready-made pockets). You can even find uses for your bare necessities bras (bra strap headbands?). The trick is to think outside the box and see the potential uses for your old clothes. It may require some time and effort on your part, but it could save you a ton of money in the long run.