Is a College Degree a Good Investment in This Economy?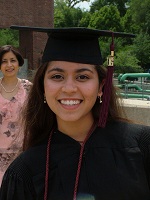 In the aftershock of the recent recession, it is likely that many will find it difficult to find, change, or otherwise procure employment. According to the Bureau of Labor Statistics the unemployment rate has been fluctuating by approximately mere tenths of a point since the beginning of the year, while the average hourly earnings are seeing small monthly increases.
In this economy the most informed life decisions should be made according to where you are in your professional life. Say you have several years of experience in your trade of choice. You are probably in a good position to expect reasonable pay, however, switching employers may not be a sure thing.
Although many employers seek experienced candidates, it is evident that the market is still saturated with the unemployed, many of whom weren't lucky enough to retain their jobs through the recent economic plunge. With a lot of talented unemployed candidates in the job pool, this may be a better time to consider either sticking with your current position or getting that college degree to add to your competitive edge.
Alternatively, you may be fresh out of high school and thinking about your next steps. While starting a job out of high school provides a good respite from the academic experience, you will eventually want to consider where that job is taking you. If you like what you do and there is some likelihood that you will have room to grow and succeed professionally, it may be the place for you. However, the drawback of this situation is that you may hit a glass ceiling at some point where you can no longer proceed without a degree.
Additionally, there is an element of uncertainty in any situation like this, where others may be promoted above you. If you are prepared to exercise patience and act with confidence, sticking with a job that can turn into a career may be the correct path, otherwise you may want to consider a degree.
Going to college is bound to be rewarding so long as you have a clear idea of what you want to do with your degree. The potential debt that taking out loans will cause you won't be worth it unless you have defined plans on how you are going to pay it back.
Whether you are considering an associate, bachelor, or master's degree you want to think about the amount of debt you may incur as a result.  Without doing an in-depth cost-benefit analysis, you can assess your projected financial situation by going to a site like mappingyourfuture.org. The budget calculator function of this site allows you to take into account both assets and liabilities you may have during a typical year living as a student. This gives a realistic idea of how much money you should expect to need to live on during school. The pay wizard option also gives the potential student a good idea of what their loan payments will look like for after college and helps assess how much money should be borrowed.
Emma Martin writes for Go College where you can find helpful information on graduate fellowships and learn how to write a college admissions essay.