Make Your Kid Business Lots of Money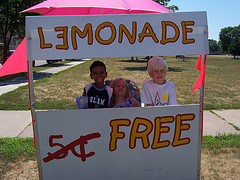 Now that you have some ideas on how to start making money when you are young (read How Can Kids Make Money When They're Young), you have to get customers and keep them coming back.
Here are some suggestions on how to make sure your business makes a lot of money and maybe become like one of the Teenage Millionaires:
Visit Craiglist: Craigslist.org is a great website to find people looking for help, or you can post a free ad about your services. Be sure to talk to your parents before talking to strangers or going to anyone's house.
Create Flyers: Create a flyer about what you can do, and post them around town at grocery stores and laundry mats. First, get permission from the store before you hang the flyer though.
Offer Discounts: Give people a discount the first time they hire you to get more calls. Another option is to offer a discount for packages. For example, you can charge $10 a car wash or discount 4 car washes for $30.
Give Stuff Away for Free: People love free stuff, and if you give them something they really like they will come back. Do your first job for your customer for free, or partially for free. Here are some things you can do for free to get people to come back: clean half a basement, bake smaller sample brownies, walk their dog the first time for free, give 1 free car wash.
Follow Through on Your Word: Always do what you say, and do it to the best of your ability. If your customers are not happy, you run the risk of them telling other people not to hire you.
Always Ask Your Customers Who Else They Know: If your customers are happy, they will let other people know about you and your business. Ask them if they know anyone else that they would be interested in your service or product to help you make more money.
Tell Why: People like helping other people. Mention why you are trying to save money in your flyers and when you talk to people. Don't just tell them you are trying to make money. Tell them you are saving money for a trip, or to buy something, or to help someone out.
Many of the rules above apply to kid businesses and professional lives. Create a brand and differentiate yourself from the pack, and you will be successful. -RT
photo by rochelle, et. al.