Difference Between a Bank and Credit Union?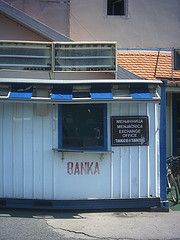 At first glance the difference between a bank and a credit union may seem insignificant, but depending on your needs there are some pretty significant advantages to belonging to one over the other.
Bank vs. Credit Union
A credit union is a not-for-profit financial institution that is owned by the people who belong to the credit union. Its members are made up of people who share a common bond or affiliate, such as belonging to the same church, school, employer, organization or community.
Since every member is an equal owner and therefore shares a common bond with the other members, the personal experience tends to be much better at a credit union. As co-owner, the credit union works for you to make sure you are happy and have an enjoyable experience. According to Bankrate.com, "Credit unions have topped the consumer satisfaction ratings in American Banker's annual survey for 12 years in a row."
Since a credit union's primary focus is its people, or co-owners, they are more concerned about making you happy than turning a profit. As a result, credit unions typically offer more educational services and seminars to teach you about all financial products so you can make the best decision. Banks, on the other hand, may be more inclined to recommend only those products that bring in higher corporate profits.
As a not-for-profit organization, credit unions have many advantages over banks. They are exempt from most state and federal taxes, do not have many marketing costs, or high salaried executives. This allows credit unions to pass on great rates to their members, including:
Higher Interest Rates on Savings Accounts
Lower Rates on Auto Loans, Mortgages and Credit Cards
Free Checking Accounts
Lower or No Penalties for Overdrafts and Late Payments
Your money is also just as safe as with a standard bank since up to $100,000 of your cash is insured and regulated by the National Credit Union Association, which is the same as the Federal Reserve Bank's coverage.
The down side of a credit union is their conveniences. They will typically have less ATMs, fewer branches, and usually lack variety in investment products and services. Finding and joining a credit union can be a bit trickier too. It may just take a phone call to your human resource department to see what options your employer offers. Otherwise you may have to do a bit of homework, but virtually anyone in the U.S. can join a credit union. Use www.findacreditunion.com to help you do your credit union search.
Banks, on the other hand, are publicly traded, for-profit organizations. Unless you have a personal banker, you generally will not receive the same level of service and satisfaction as you would from a credit union. Rates, fees and penalties will undoubtedly be higher too, but these inconveniences may be outweighed by the benefits.
Banks will have a much larger selection of products for you to choose from, including retirement plans, stock investing programs, and other services not offered by credit unions. Secondly, banks can offer more convenience with more ATMs and more branches, and it is as simple as walking in the door to join.
So when deciding between a bank and a credit union, you have to think about your goals and personal needs. If you want better rates and more personalized service, go with the credit union. If convenience is your number one criteria then stick with a bank for your personal banking needs.
Millionaire Money Habit: While it may take a bit of upfront work to find a credit union that you can join, the service, satisfaction and financial education you can receive may be well worth the effort. It doesn't hurt to take some time to shop around and ask yourself what's most important t you in a financial institution. -RT
photo by Innocent Fraud
The Thrifty Scot searches over 500 personal loans in seconds to find you the best deal.