Starting a Business? Low Overhead is a Must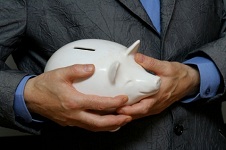 Even if you're doing the smart thing and forming an LLC (or similar), you're still going to have to use your personal credit to secure the funding needed to start your own business.  This means that you're probably not going to qualify for quite as much money as you hope for to get things up and running (even if you're eligible for a significant amount).  Plus, it's going to be a while before you really start earning enough money to pay the bills.  What this amounts to is a rather lean time for your business, which can be a real hardship when you're learning the ropes, making mistakes, developing an understanding of the market, and trying to make your vision into a reality.  For these reasons, keeping your overhead low is absolutely essential.  But how do you accomplish this task?
Cutting costs is no easy feat, especially when you're just starting.  Down the road, you can haggle for the price of goods (especially if you're buying in bulk), streamline your processes, minimize redundancies, get deals on shipping, and perform a whole host of other money-saving devices that will keep you in the black.  But right now you're just trying to figure everything out.  Add in the fact that you have certain ideas about how your business should be (and you're determined to get it right) and you are probably already over-spending.
But if you're willing to make a few concessions, it's not as hard as you think to toe the bottom line.  For starters, you may want to consider a business model that supports telecommuting, at least initially.  If you're plan is for a storefront, think about starting your business online instead and then expanding later.  Or if it's an office setting, just have employees communicate through IM or video conference.  Even if you have to equip employees with smartphones, it's probably going to save you a lot over a lease and the additional costs of running a brick-and-mortar location (utilities, security, etc.).  Although not all businesses can run this way, it's a viable solution for anyone who plans to have an online presence anyway (and it can cut costs significantly).
Your staff is going to be another big expense, but you really do need head count if you're going to get the work done.  So think about hiring contractors.  You'd be surprised by the number of people you can find who are willing to work on a contract basis.  This is best if you're doing business solely online, but it can also be viable for physical locations (although you will have to hire them on as employees if you plan to keep them more than a year).  You may have to pay a little extra for freelance workers (unless they're new to it), but you won't have to pay the employer portion of taxes or social security and you can also avoid the outrageous cost of health benefits.  This is going to translate into a huge savings where your overhead is concerned.  If you have a storefront, you can also hire only part-time help and just avoid benefits.
There are about a million other ways to save smaller amounts of money as time goes by, and you will likely discover most through experience.  But if you really want to start off on the right foot and get your enterprise going for less money than you planned for, a few simple adjustments could make a world of difference where your overhead is concerned.
Emma Martin writes for Plexpack which offers continuous band sealer, shrink packaging machinery and many other items for your e-commerce and other packaging needs.