Budget Home Redecoration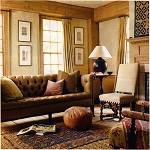 Spiffing up your living space can be pretty expensive if you don't plan accordingly (or sometimes even if you do).  Between the cost of materials, a contractor and crew, and brand new furnishings and accessories, you can easily exceed your modest budget before you've even finished the demo phase.  Even if you're only making small upgrades that are all DIY, you might spend a lot more than you intend.  But if you want to have the dream designs you've seen in the magazines without breaking the bank, there are all kinds of ways to get the look you want for less.  Here are a few simple solutions to get you on track for some fabulous redecorating that will stay well within your budget.
1.   Paint.  You just can't go wrong with a fresh coat of paint to turn your house into a whole new living space.  If you want to make your rooms feel bigger, you can opt for lighter, brighter colors on the walls and a true white in a light-bouncing satin finish on the ceiling, whereas a darker jewel-tone could add a modern vibe and help you to feel wrapped in luxury every time you walk in the door.  Having trouble committing to a color but tired of bland neutrals?  The easy fix is to paint an accent wall.  It will create a focal point by adding a pop of color to any room (and if you hate it, you'll have a much easier time painting over it).
2.   Fixtures.  If you can't afford to replace the counter, sink, and cabinets, give them a new look by updating the hardware.  A tiled counter could get a whole new look by going over the tone-on-tone grout with a colored alternative (this is a great solution if you're tired of bleaching white grout that just never looks clean).  Installing a new brushed-nickel faucet is easier than you think, especially with the aid of a home-repair guide, and you can finish off the look with updated knobs and drawer-pulls for cabinets.  The best part is, these small touches will totally revamp your space while saving you thousands of dollars.
3.   Accents.  Instead of springing for new hardwood flooring or granite countertops, enrich your rooms with some clever accents.  A couple of nice rugs will cost you a lot less than wall-to-wall flooring and they can hide any imperfections in your current planks or pile.  And instead of replacing an entire counter surface, simply put in a new backsplash.  It's a cheap alternative that will give you a lot of bang for your buck.
4.  Furniture.  You could spend a lot in this area, but you definitely don't have to.  Instead of getting everything new, splurge on just a couple of key pieces that you'll use the most (sofa, bed frame and mattress) and go green with the rest by opting for reclaimed items to supplement the layout.  Estate sales and second-hand stores can both offer an inexpensive alternative and some pieces with a lot of potential.  You may also want to check Craig's List for items that are nearly new for a fraction of the cost (or even the stellar price of "you haul").
5.   Accessories.  Embellishments like linens, drapes, pillows, lamps, candles, photo frames, decorative vases, and so on can become quite pricy when you start to add them up.  So see what you can reuse around the house and what you can make yourself.  Lamps can get a much-needed update with a new shade.  And if you're handy with a sewing machine, drapes and pillows will pose no problem.  As for the tchotchke items, check out the thrift store.  Ugly art can be purchased for the frame alone and used candle-holders can be made serviceable with a quick cleaning or a coat of metallic spray paint, depending on the medium.
Emma Martin writes for Sofas and Sectionals where you can find an assortment of high end furniture by brands like Palliser and Berkline.