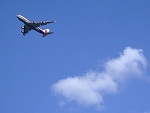 By now, most seasoned travelers have become aware of discount sites like Travelocity, Priceline, Orbitz, Kayak, and so on that cater to those who would like to travel for less.  And while you can certainly get some great deals by bundling your airfare, hotel, and car rental into one low-priced package, there are a ton of other ways to save when you head out your front door and into the wide blue yonder.  Here are a few you may want to consider.
1.  Purchase in advance.  This is one of the best ways to save on airfare and hotel accommodations, not to mention ensuring availability and options.  If you know you're going to be traveling six months to a year in advance, don't wait for prices to improve (they probably won't, although sometimes there are large sales over holiday weekends and such).  Purchase tickets and make reservations while prices are low and you're guaranteed to save money over those who opt to wait it out.
2.  Comparison shop.  This seems like common sense, but you'd be surprised how many people only go to one discount travel site and then call it a day.  By visiting multiple sites (some of which can secure larger blocks of tickets for better discounts, or those that have deals worked out with specific partners), you're guaranteed to ultimately find the best prices.  Another good option if you have the time is to try sites that let you name your own price (like Priceline).  You might be surprised how much you can save just by asking.
3.  Travel light.  With fees for everything short of the air you breathe (from seat assignments to snacks to luggage), it really behooves you to plan ahead.  By packing a light carry-on, you can avoid the new checked-baggage fees that are plaguing the airline industry (in many cases, you don't just pay for additional bags, but for the first one…and you get charged more if you pay at the airport instead of the time of ticket purchase!).  For both utility and savings, check out the goods at Scottevest, which offers all manner of jackets loaded with 20+ pockets to house all your electronics in one easy-to-scan (and weather resistant) package.
4.  Get a suite.  Okay, this definitely doesn't sound like a good way to save money, but hear me out.  If you're going for an extended stay, paying a few dollars more each night for a room that comes with a kitchenette could save you a lot (and keep you from suffering the malaise and indigestion that always seems to follow days of eating out).  You might be surprised at how much you spend on food when you travel (figure on a minimum of about $50 per day, and probably more than that).  By going for the complimentary continental breakfast and preparing your own lunch and dinner in your room, you stand to save a lot, especially if you stay at an economy Inn & Suites type place.
5.  Spring for trip insurance.  Again, this is clearly an added expense, but the one time you have to change your flight plans because of a 24-hour flu, a traffic jam that causes you to miss your scheduled flight, or any other reason, you'll be happy you paid the extra fifteen or twenty bucks and avoided the $100 transfer fee or the cost of buying a new ticket altogether.
Emma Martin writes for Thailand Holidays where you can plan your next exciting vacation.

Tags: