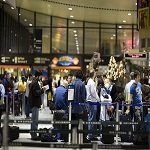 Travel is often one of the most stressful parts of the holidays, and it's largely because so many people take the opportunity provided by a slower work schedule to cash in their vacation time and jet off to see the family.  This bump in travel not only leads to long lines, delays, and overbooked flights at the airport (not to mention traffic jams in major metropolitan areas), it also means that the airlines can charge a premium for tickets and tack on all the extras.  If you book early (as in, you arrange for travel in July), you may be able to find some pretty good prices.  But as the holidays loom, you will see a marked increase in the cost of tickets that seemingly gets ratcheted higher by the hour.  So how can you make it home for the holidays without incurring debt that will stay with you until next Christmas?  Actually, there are a few ways.
You'll want to start with discount travel sites, and there are a lot of them.  You've probably got a couple faves in your back pocket, like Travelocity, Expedia, or Orbitz, but there are a few that offer some added value over even these standbys.  Hotwire, for example, will give you even better prices than the others, but the trade in is that you can't pick your flight time or the number of connections.  You simply get the lowest price for your date and you could end up with four connections and a red-eye.  It's a bit of a gamble, but the savings could be worth it.  You can also check sites like Kayak that compare prices from a number of other discount travel sites, or go on Priceline and set your own price (although you have to wait until your requested price is offered…yes, that means if it isn't offered, you won't get a ticket).
If you're traveling overland, you may also want to consider alternatives to flying (which is easily the most expensive option at this time of year).  As you may have realized, paying less can sometimes mean more time or effort on your part.  In this case, you have three choices: train, bus, or car.  During most of the year, train tickets are more or less comparable to plane tickets in cost.  The nice thing is, so few people these days travel by train that the prices hardly fluctuate during the holidays.  So if you want to sit back, relax, and avoid gridlock, opt to take a train.  Buses may also fit the bill.  Although somewhat less comfortable, Greyhound often has great low prices.  Of course, if you're going to go that way, you might as well just drive.  For roughly the same price (depending on your destination and whether you decide to get a hotel room along the way), you can have total control over when and where you stop (not to mention the privacy of your own car).
Travel during the holidays is never a very appealing prospect because of all the hassles involved, but you shouldn't have to pay an arm and a leg for the privilege of getting jostled through TSA security or spending the night in a terminal due to delays and cancellations.  Instead, look into some of the many ways to save this season.  You will still have to deal with the headaches of holiday travel, but you won't come home to a credit card bill that puts you in the poorhouse.
Emma Martin writes for Package Holidays Abroad where you can find a variety of inexpensive, family friendly, and fun travel packages.

Tags: