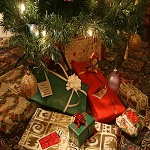 As many a parent knows from personal experience, hitting the toy store for the much-advertised items your kids simply can't live without this holiday season can mean fighting in the aisles, wasting away in long lines, and getting into debt up to your eyeballs.  While you may still have to brave the lines at the eleventh hour to come home with the must-have toys of the season, there are quite a few ways to cut costs on even the most in-demand of playthings.  Here are some options that will keep your well from running dry so you have a few ducats on hand to ring in the New Year.
1.  Amazon.  Although this website offers savings year round, they are having targeted price cuts throughout the final days leading up to the holidays, including a toy sale that has many must-have items priced at up to 50% off retail.  Simply type in a search for "holiday toy list 2010" on their site to find the best deals on Barbies, books, Legos, board games, and video games.  Or if you're looking for something specific, take a peek to see if they offer a price reduction on the item.
2.  Super stores.  Discount stores like Target and Wal-Mart have made no secret about their desire to bring in your holiday business when it comes to toys.  In fact, many stores are banking on toy sales to raise their ailing earnings this season.  To that end, let the price wars commence.  Wal-Mart came out strong in November with early price reductions while Target has stocked twice as much inventory as last year (meaning they'll still be selling when other retailers run dry).  In any case, consumers will gain the most benefit from this rivalry.
3.  Toys R Us coupons.  Although price-slashing doesn't seem to be high on the agenda this year for the famous toy outlet, they are offering a wider variety of toys than most other retailers.  In addition, you can find coupons that will save you a specific dollar amount or a percentage on your purchase.  Simply print them out or use coupon codes online.  And be sure to check first at their online store since they seem to have special offers intermittently.
4.  Rewards.  Getting a card with a flexible rewards program is a great way to save not just on toys, but on all of your holiday shopping.  Simply spend with your card (Capital One is a good choice since you choose how to use your points) and then redeem your "miles" to cover the bill.  Of course, if it's toys you're after, why not sign up for a Toys R Us credit card?  This MasterCard from Chase can be used anywhere and the points you rack up will come back to you as Toys R Us gift cards ($10 for every 1,000 points, where most purchases will get you 1 point per dollar and special qualifying purchases will bring 4 points per dollar).  Use it throughout the year and you could have enough gift cards by the holidays to cover all your shopping and then some.
5.  After-holiday sales.  If you simply can't find a discount on the must-have toys of the season (or you can't find the toys themselves), consider waiting until after the holiday rush, when shelves will be re-stocked and prices will very likely drop.
Emma Martin writes for grocery store coupons where you can get printable chipotle coupons and find an assortment of deals for other popular restaurants.

Tags: