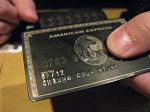 If you are wary of the idea of financing your small business with your credit cards, you should be.  In fact, you should be cautious about financing any large expense with a credit card, whether it pertains to your personal or professional life.  There's simply no denying that credit cards often come with relatively high interest rates, which can double (or more) if you fail to pay on time.  That's definitely a cause for concern.  That said, there are actually some instances in which using credit cards to further your business goals is not only okay, but actually preferable to other options.  Like any other type of financing, there are both benefits and drawbacks to this particular avenue of funding.  But as long as you know when and how to use your credit wisely, you can avoid the pitfalls and gain the advantages of financing via credit cards.  Here are a few things to consider.
1.  Credit rating.  A poor credit score for your business can spell serious problems should you need to borrow money.  These days, many companies just need a boost to see them through the recession.  But because of the lending crisis (which landed you in this precarious position in the first place), most banks have become more careful about who they lend money to, which means you might be rejected over and over again, regardless of past history or your ability to make monthly payments.  In this case, a credit card company could provide the cash you need now.  Just make sure you are aware of both terms and penalties before you enter into such an agreement.
2.  Interest rate.  The prime has been held artificially low as a way to encourage businesses and individuals to take out loans, but it's a moot point if the banks aren't willing to lend you the money.  And while you could opt for merchant cash advance, the interest on this type of loan builds alarmingly fast (you could end up paying as much as 300% by the time you're through…ouch).  However, if you start with good credit, you might have a credit card with an interest rate as low as 7-9%.  Obviously, it's not as good as a bank loan for half the interest, but it's certainly an option to consider.
3.  Monthly earnings.  This could be the determining factor in whether or not you opt for credit card financing.  Even if your monthly earnings are high, you might not have quite enough cash on hand to pay for a large, one-time expense.  In this case, using a credit card could provide an ideal solution.  You'll be able to make a repair or a big-ticket purchase and easily meet the monthly payments down the road.
4.  Scope of expenses.  If your needs are small, a credit card could be the answer.  Suppose you need office supplies, you're traveling to a convention, or the AC unit needs to be repaired.  You may not have the money to spend on these relatively small expenses now, but you'll likely have it by the end of the month.  In short, if you can use your card and pay it off before you start accruing interest, it's certainly a better option than going through all the paperwork to get a loan.
5.  Other options.  If you have better options for interest rates and repayment, you should probably take them.  You may be able to get venture capital if you meet the proper requirements; generally, you must be a fast-growing company to qualify for this type of funding.  Or your friends and family might be willing to lend you money (and they're bound to be more lenient than other creditors).  And you can always take on partners.  But if your options are limited, you need a little cash, and you're fairly confident about your ability to pay it back quickly, there's no reason you shouldn't use credits cards to meet the needs of your business.
Emma Martin writes for Totally Money where you can find information on financial products and browse through important information like poor credit loans.

Tags: