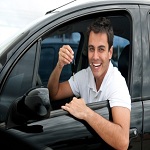 Owning a vehicle cannot be described as an inexpensive undertaking.  Even if you save on buying a car by selecting something used, you'll almost certainly spend that money down the line on repairs and related costs.  In short, you're going to end up laying out a lot of dough for transportation if owning a personal vehicle is the option you choose.  However, in our car-loving culture, it's almost unthinkable to eschew automobile ownership, especially if your work is not in close proximity to your home (as is the case for most people).  However, there are quite a few ways to cut costs when it comes to your car.  Here are some you might want to try.
1.  Buy certified pre-owned.  This is the happy medium between new and used.  Technically, these cars fall into the "used" category, but you still get most of the benefits of brand new.  Certified pre-owned vehicles are often 1-2 years old, but they are sold by the dealership after having undergone inspection and repair, they often come with low mileage, and you're likely to get a full warranty with such a purchase.  The best part is, you'll see a significant reduction in price for a car that is practically new.  They might even throw in some new-car smell.
2.  Get a service plan.  Tired of paying more for an oil change at the dealership because your warranty may be void if you go to Jiffy Lube?  Many dealerships offer a service plan for the duration of your warranty (just ask when you purchase your car) that costs less than paying each time.  There's a one-time fee in the beginning and all you have to do for service is drop off and pick up your vehicle every three months.
3.  Skip the dealership.  When it comes to repairs, you should know that the dealership will charge you more than anyone else.  You might think it will be cheaper because they have access to parts and their mechanics work on your brand all day (that should make them faster, right?).  Unfortunately, this is not true.  Find yourself a good mechanic that you trust and take your car to him instead of the dealership.  You'll save a ton.
4.  Consolidate insurance.  If you have your car insured with a different company than the one that insures your other assets (home, life, etc.), think about consolidating.  If you hold several policies with one company, you'll likely get a better deal on all of them.
5.  Ask about discounts.  Talk to your insurance provider about possible discounts that you might be eligible for.  You could get a break for being a safe driver, keeping your mileage low, or even having a good student (if your teen is on your insurance, good grades can result in a discount).  Of course, paying off your car loan will net you the best rate reduction.  As soon as you can switch from full coverage to liability, you'll see a significant savings.
6.  Carpool.  This one is a no-brainer.  Do your part for the environment (and your wallet) by finding some people in your office who live in your area.  By carpooling, you'll all save on gas and mileage, and you might even get some benefits from your company (carpool rewards).
7.  Drive safely!  This is a great way to save money.  You can't always anticipate accidents, but you can avoid many of them by simply being a safe driver.  You'll also steer clear of speeding (or other) tickets and keep your insurance low.
Emma Martin writes for Party Bus CT where you can find the perfect vehicle for your travel needs. Connecticut Limo also provides car service to JFK airport.

Tags: