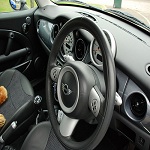 There's no doubt about it: cars are an expensive commodity for the modern individual.  Not only do you have to take out a loan to purchase one (and pay more than it's worth in interest), you also have to shell out the cash for regular service, insurance, registration, fuel, and any unexpected problems that are going to arise sooner or later.  Almost makes you want to take a bus, doesn't it?  But therein lays the appeal of the automobile.  It offers us the freedom to come and go as we please (as long as we can afford the attendant costs).  However, if you are one of the many people who needs a car (for work, ferrying the kids around, etc.) but you just don't have the thousands of dollars (and stellar credit rating) necessary to complete such a transaction without handing over shares in your immortal soul, then you should know that there are options to save you money.  Here are a few you may have overlooked.
1.  AAA.  You may think that Triple A is only good for roadside assistance, free maps, and getting a 10% discount on hotels and rental cars.  In fact, being a member of the Automobile Association could actually save you quite a bit on a car purchase (as long as you buy from a participating dealer).  You'll pay a set amount above cost and avoid the haggling that so many people find daunting, virtually guaranteeing you the best price on a new or used vehicle off the dealer lot.
2.  Certified pre-owned vehicles.  This is an excellent way to save on a car that has had minimal use and still comes with a long-term, bumper-to-bumper warranty (it differs by manufacturer, but it could be as good as the warranty on a brand new vehicle).  Plus, dealers guarantee that certified cars have passed a rigorous inspection (although if you live in a state with strict lemon laws, you don't have to worry anyway).
3.  Up-front service plans.  If you have the available cash to pay for a service plan at the time you purchase your vehicle (for regular oil changes/tune-ups) you stand to save a lot over time on these 3-month/3,000-mile markers.  However, it's only really worthwhile if you actually bring your car in for scheduled services.
4.  Hybrid or electric.  You might be surprised how many moderately priced eco-cars are now on the market.  For the same amount you might spend on a petroleum-fueled vehicle, you can find one that gets double (or more) the gas mileage (or has no expense for fuel at all…although you will pay for the energy to charge an electric car).
5.  Repairs.  It can be tempting to go to the dealer for service every time you hear knocking and pinging or see a spot of oil on the driveway (and within warranty, this is a good plan).  But they are going to charge you a lot more than just about anyone else once your warranty runs out (or before, if the part in question isn't covered).  Find a local auto shop that you trust (get referrals) and they will likely offer you options with varying levels of expense from patch-up jobs to full repairs, depending on what you can afford (while the dealer will always insist on a comprehensive fix).
Emma Martin writes for Cheap Car Insurance where you can compare rates and the find the best deals on auto insurance.

Tags: