Have you ever thought about the way your employer business and thought you should start your own company? Some people take jobs to develop the skills and connections in order to start their own businesses, but even more have left the job place because they saw a better way.
Of course just about every wealthy person owns their own corporation or built their wealth through a small business, so there are those benefits. But if you are going to give it a shot, don't do it just for the money. It could take years of incredible sacrifice and sweat before you even turn a profit, and there will be many ups and downs along the way. Your drive and passion might be the only thing that allows you to keep moving forward when things couldn't seem to get worse.
But as the saying goes, "There's no better time than today." If you have an idea to start your own company that the market will value, then go for it. Ideally the best situation would be to build your business slowly during the nights and weekends while you keep your day job to help finance any up-front costs and keep food on the table.
If your business has little to no overhead, such as a consulting, freelance or marketing company, you have a shot at not only building a business for tomorrow, but you may be able to supplement your current income. You may choose to reinvest any profits back into your business, but if not, think about what a couple hundred bucks a month could do to your retirement savings.
When you start your own company, be careful of getting into something you don't entirely grasp. Before you make the leap, get in touch with some people doing what your thinking about doing. Ask them what their day is like, what they enjoy, what they dislike, what the wish they did differently. Try to actually visualize if it is something you would actually see yourself doing and enjoying. There's usually a lot more to running your business that you wouldn't even realize until you are involved, but doing your due diligence will help.
As far as the reasons why you should consider to start your own company, let's discuss some of the benefits:
A fantastic tax shelter
Unlimited income potential
The freedom to run your business your way
The satisfaction of watching your business grow and feeling accomplished
New opportunities have a way of opening up to you
Creating jobs and helping make the economy stronger
The list could go on, but the point is there are many great reasons to build your own business. While it's not for everyone (just as working for someone is not for everyone), there are incredible benefits to running your own show and thinking more like an entrepreneur.
The future poised for enormous growth, and there are seemingly endless amounts of opportunities out there. Align your skills, interests and personal circumstances with the right business model, and you could stumble on what might just be your chance of a lifetime.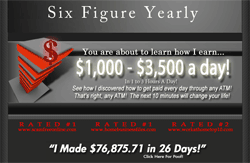 Tags: