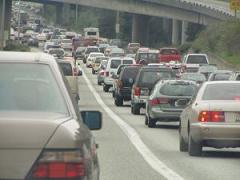 Do you remember in 1999 when average gas prices were around $0.99 a gallon? MSN Money featured an article today called, $4 a gallon means more for a beer. Now that's one way to get my attention, but it got me thinking about all of the different things in life that the cost of fuel affects.
Fuel charges really put the pressure on businesses and consumers. When consumers can't afford the greater things in life, businesses suffer. When businesses suffer, consumers feel the squeeze from increased costs and reduction in quality. It's a vicious circle.
A couple examples come to mind:
American Airlines recently announced that it will now charge passengers for all checked luggage on a graduated scale for each bag in an attempt to offset the rising fuel costs and keep their business alive.
The Mexican restaurant near my house started using a lower quality sausage because they are feeling the pressure from increased operating costs and lower consumer spending.
It not only affects the extra money we have to spend as well as the quality of goods we receive, but an increase in average gas prices now forces us to make tough decisions that we never had to make before. For example, I am writing this on Memorial Day, which is typically a time of year for American families to get together, barbeque and get ready for the long awaited summer. This year, however, families have to scale down their plans or change them entirely because life is just too expensive. According to MarketWatch:
About one-third of all Americans plan to travel this Memorial Day weekend, according to a new report from Deloitte & Touche, but nearly a quarter of them have changed plans due to the pinch at the pump and 12% have cancelled road trips altogether.
Now not only is the skyrocketing price of gas squeezing our budgets enough to prompt us not to eat out or buy new toys, but it is also preventing us from doing what may be the most important thing in our lives - spending time with the ones we love.
Things will have to change - one way or another. I don't believe average gas prices will be going down, as they never do. Eventually we'll have to rely less on petroleum or change our behaviors to accept the new cost to commute. Either way, for now the supply and demand curve is worsening, and it affects our bottom line, which means we seriously have to make tougher decisions that we didn't have to make in the past.
Millionaire Money Habit: As our cost of living increases, the need to manage your money wisely and budget appropriately is even more critical. Take a moment to reflect on the seriousness of rising average gas prices. You may just need to rethink about how "living within your means" has changed and adjust appropriately.

Tags: